Living in the great Pacific Northwest is a gift. I'm not sure there is a better place on the planet. It is, however, a challenging place to golf in the winter. Heck, even the spring is pretty wet around here, and early morning tee times in the summer can leave your shoes pretty wet. I have Gore-Tex waterproof shoes that I love, but that does not always guarantee water doesn't make it into my shoe over the course of 18 holes, especially where my tee shots can wind up. Enter one of my favorite finds: SuMade breathable waterproof socks.
I admit that I had never heard of waterproof socks before a guy I golfed with this summer mentioned them to me. The idea of having my feet encased in a waterproof material inside a waterproof shoe sounded both uncomfortable and an open invitation for athlete's foot.
After doing a little online research, I found this particular manufacturer that makes waterproof socks for active outdoor sports. Their target market is adventure runners and hikers who are literally submerging their feet under water as they trudge through creeks. The socks must be breathable to take care of runner's feet.
I took the plunge and decided to order a pair. Wow. I was shocked at how comfortable they were.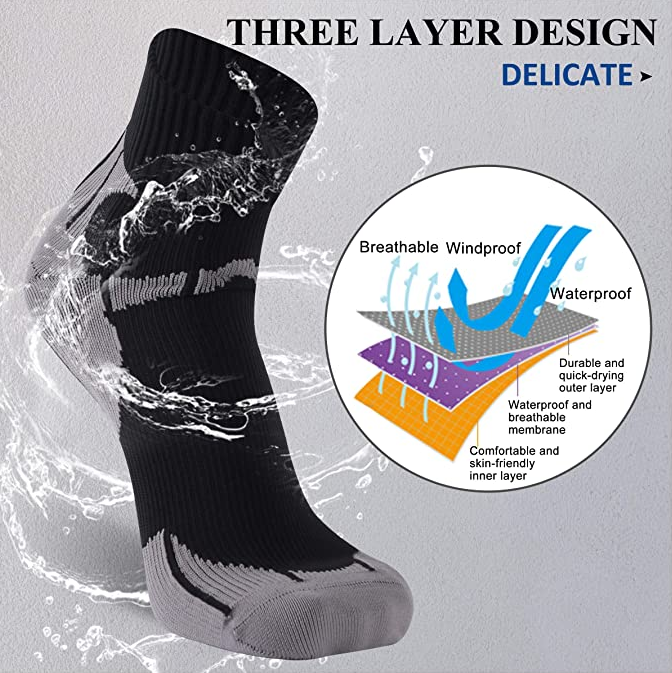 They are lined with a soft material that feels a bit like fleece. They are pretty cushy.
I have worn them multiple times since I got them and they have become one of my most prized winter golf possessions.
Fighting my swing and the course and the weather is plenty of challenge for me. Doing it all with soggy socks is kind of where I draw the line. I have a rain/wind jacket and rain pants. These socks really were the final piece of the puzzle.
There are only two drawbacks:
They appear to only come in ankle length, and I sometimes prefer to thicker, warmer, longer, merino wool sock if the temperature dips super low. CORRECTION: A reader found both crew and full length socks from SuMade. Gonna have to buy a pair!
At about $24/pair, they are pricey for socks
Conclusion
I would strongly recommend grabbing a pair of these SuMade socks. Your feet will love them on the golf course or out for a run, hike, or ski run. I give them 4.5 out of 5.0 stars.