Golf is about more than the game. The course you play, the surrounding area, the company you keep all have a significant impact on the quality of the experience. Trophy Lake Golf & Casting is a Pacific Northwest gem. Nestled in Port Orchard, WA, the course is quiet, wooded, and confidently straightforward.
Everyone likes different styles of courses. I prefer lush woodlands and views. Trophy Lake definitely delivers on the tranquility with no houses on any hole, and puts you in a forest setting.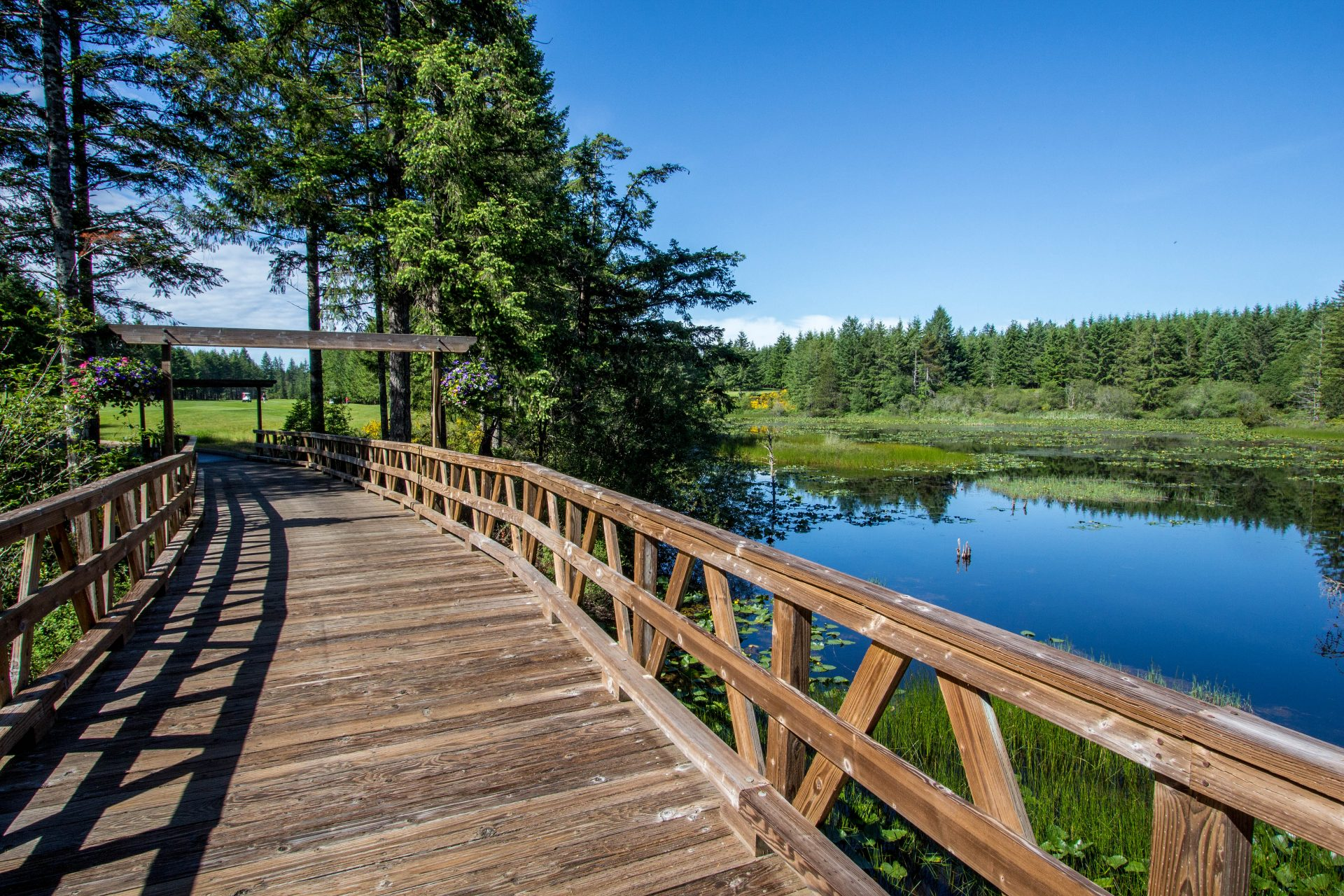 If the sound of trees has you worried, it might help to know the fairways are generously wide, especially on the back nine. It also offers six tee boxes that range from 5,342 at the ladies to a looong 7,206 at the tips.
I played the Trophy tees, which check in at 6,400 yards. Their Blue tees are 6,756, but everything was playing much longer in 39 degree weather with wind chill down in the 20s.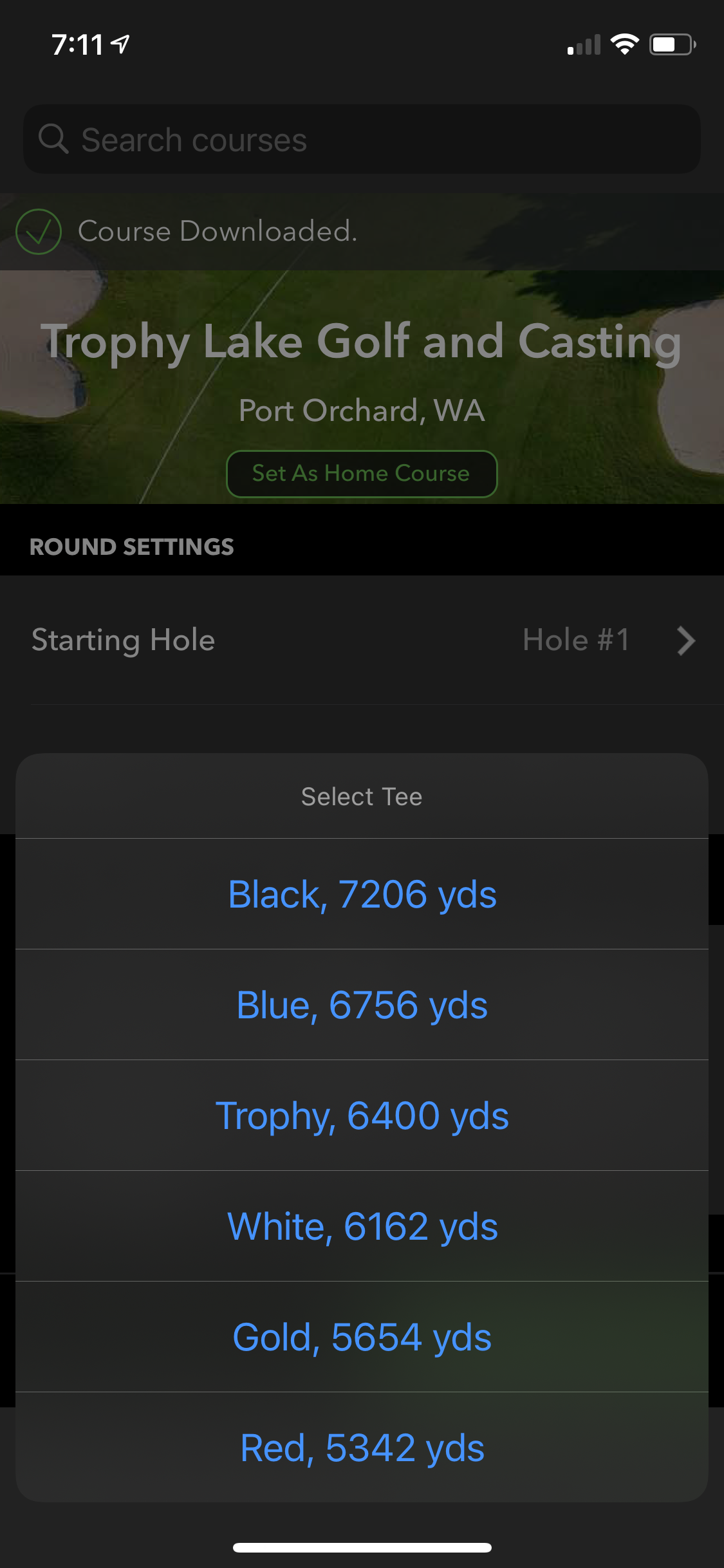 I typically drive the ball between 240-270, and was hitting the ball well but struggling to hit it past 220 in these conditions. The Trophy tees felt like the perfect spot.
Par 5s
Two of the par 5s were 543, 469, 510, and 464. You are at over 600 yards on some of those from the Blue tees. This is where playing the shorter tees really showed up.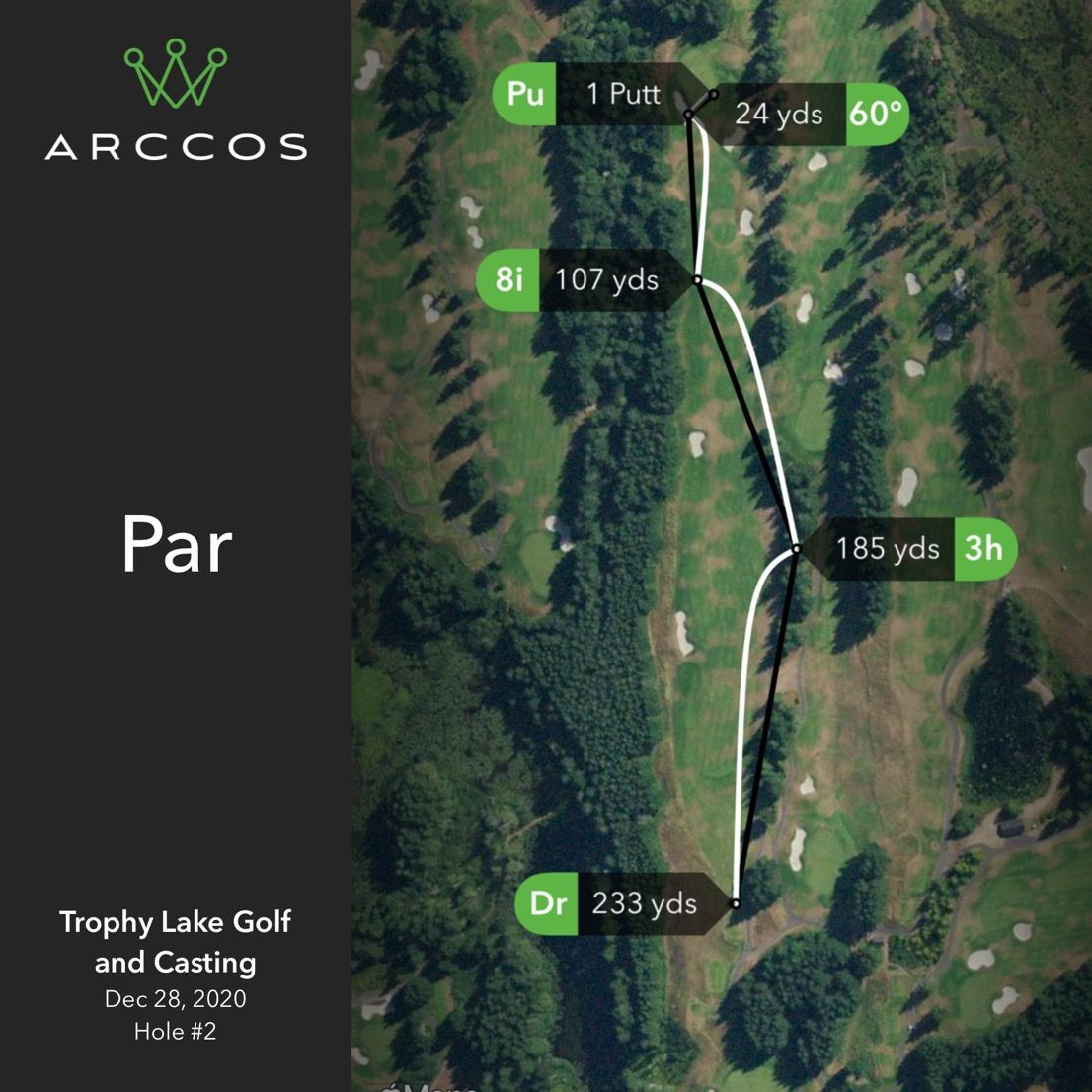 Hole replays courtesy of Arccos Caddie Smart Sensors.
This was the second hole, which was the 543 yarder. I yanked my drive wide right into the trees, so I was not able to go for the green. The trees played a much larger role in the early holes where fairways were a bit more narrow.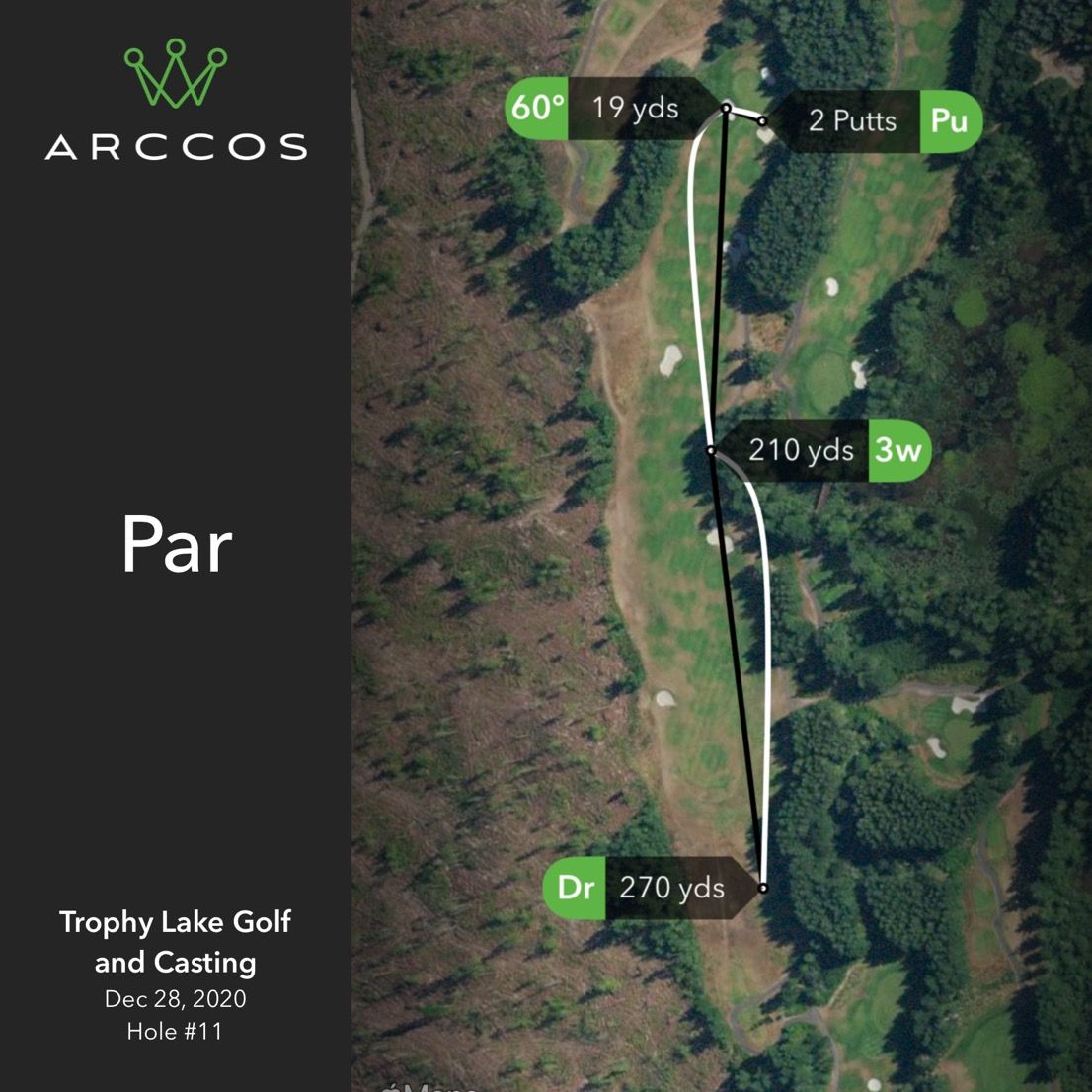 This was my favorite hole, the 510-yard 11th. The tee is slightly elevated (that is the feature image of this article), and the fairway is super wide. I felt confident taking my full backswing and uncorked my best drive of the day.
The fairway rises and crests just past that third trap on the left so you have a blind second shot at the green. I hit a decent 3 wood but I was left of the green and ended up in a trap.
More on the traps later.
Par 4s
Eight of the par 4s were under 400 yards, and one under 300. I like a short par 4 now and then.
There were a few par 4s that played more like par 5s and a few that were almost drivable.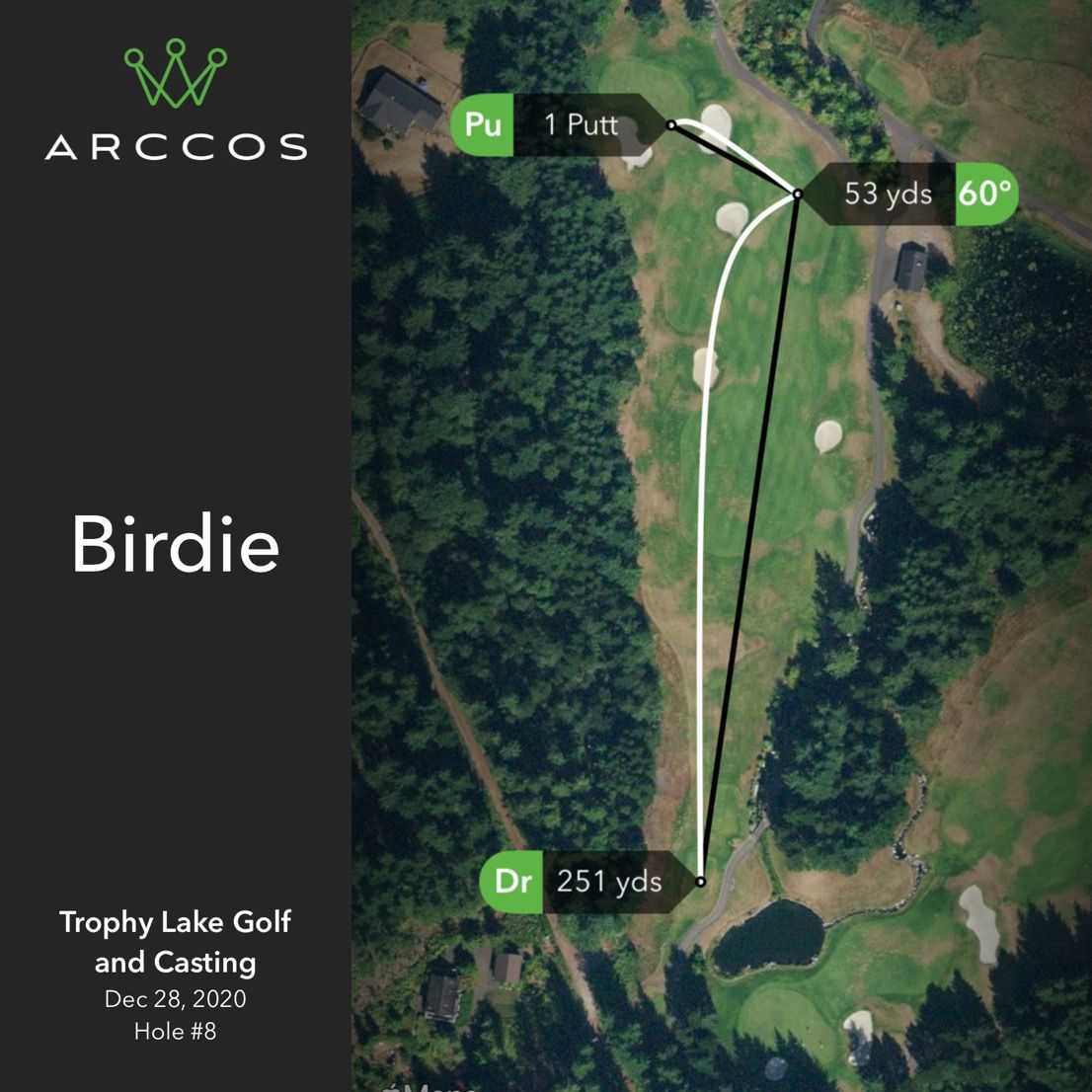 This was the short par 4. I felt like I hit it 270, but it is uphill. The hole layout was cool in that you stare at a fairway bunker in the middle of the fairway, and thankfully, the guys I played with knew the course and told me about the hidden bunker behind the first one. Had I crushed it down the middle, I would have been rewarded with a fairway bunker shot. Instead, I had a nice little pitch that I managed to drop within two feet of the cup for the type of birdie putt I can make.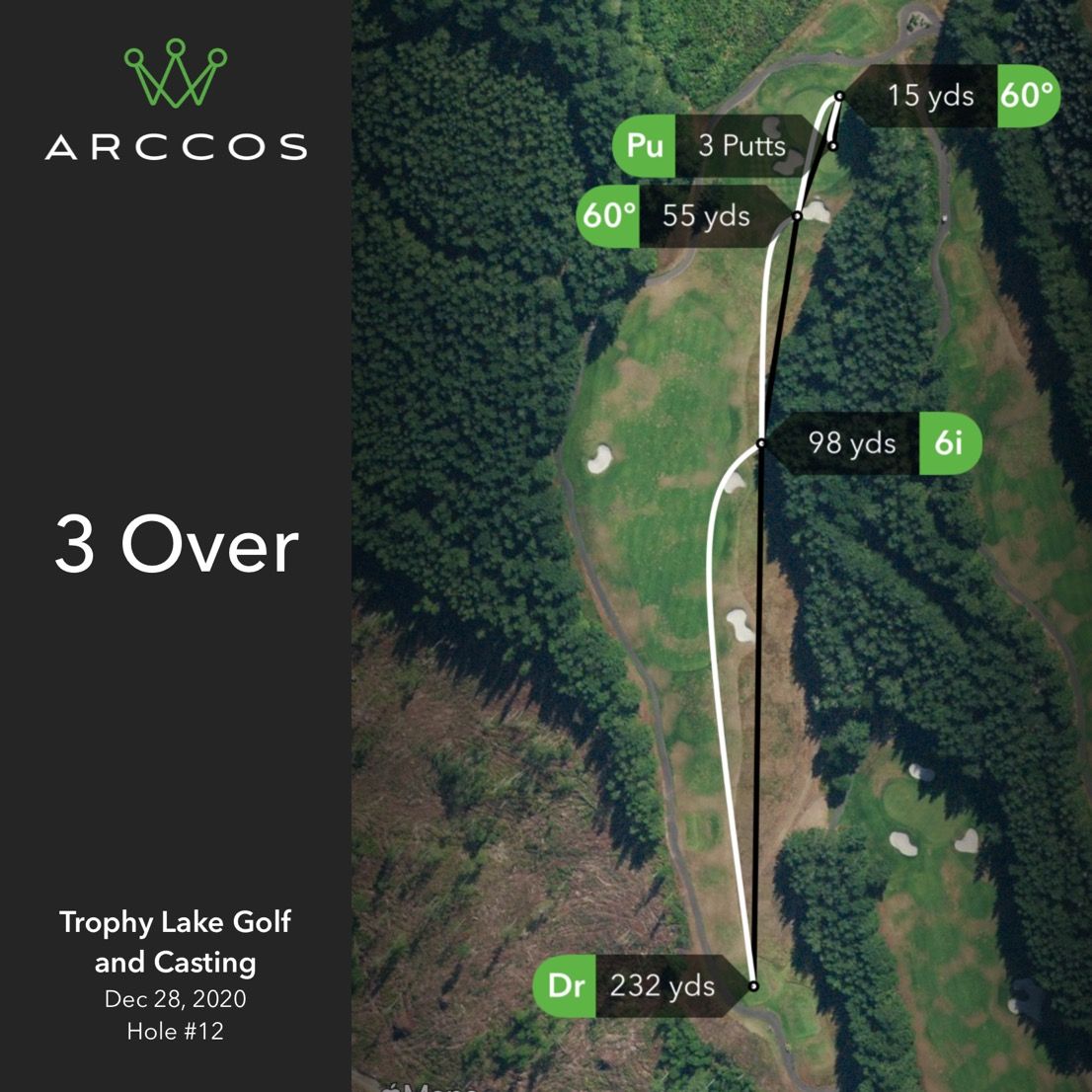 This was my blow up hole. It was still a good one. I blew it with a terrible drive that just cleared the bunker on the right, which leads to a steep slope down to the tree line. I tried to hack my way out of the thick stuff, but came up short. The hole could have been saved with a simple pitch, but I skulled it over the green and then hit a crap chip and then three putted. There goes breaking 80.
I liked the design with the peaked fairway back down to protected green. I just played it terribly.
Par 3s
The par 3s were great. I have started getting used to 200 yard par 3s where I am pulling out long irons or hybrids. There were 200 and 177 yard holes, but also 158 and 134. My only complaint would be that par 3s are typically where course designers get their most creative and scenic, and these were pretty forgettable holes.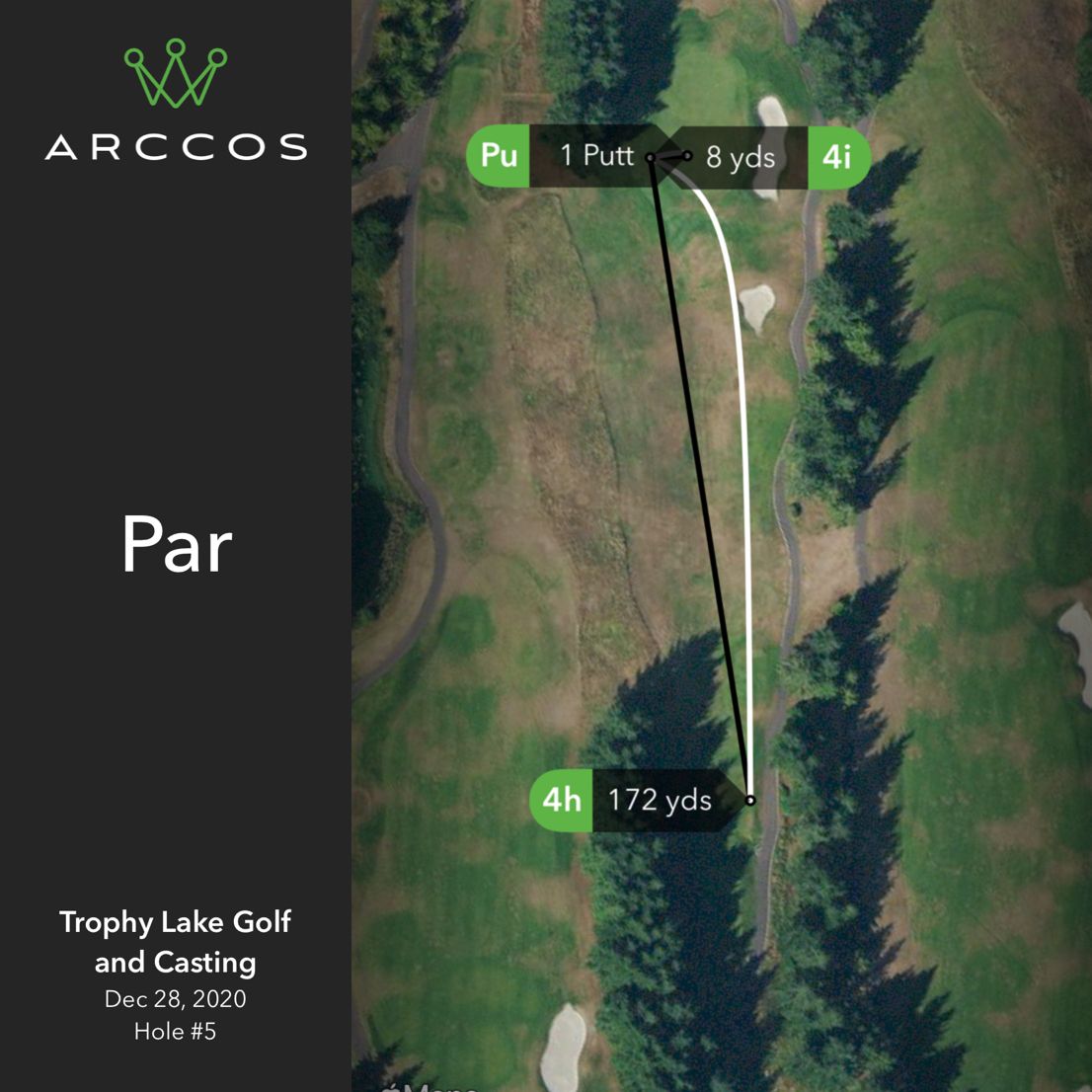 This was a good example of the type of par 3 you will see. A straight shot, with a slightly elevated green, there was not much to this hole. The only thing that made it challenging was the wind in our faces that made it play two clubs longer.
I hit roughly pin high just on the hill to the left of the green. It was a downhill chip from close range, but too far too putt. I tried a new bump and run trick I've been practicing with my 4 iron. It worked like a charm and I was able to make the putt for par.
Greens
I had a good day (for me) putting by the numbers with 32 putts, but I missed a number of putts short. Some of that was me being bad. Some of it was the wet conditions, but some of it definitely was slow greens. They were thicker and spongier than you want to see, but isn't surprising this time of year. I look forward to trying them again in the drier months.
Sand traps
The traps were in pretty bad shape. Yes, it is the middle of winter in the Northwest, but the sand was basically concrete and there were weeds growing in a number of them. Maybe they just don't work on tending those this time of year, but it was bad enough that the guys I was playing with just decided to pull balls out of traps. I played them and did okay, but it wasn't a great experience.
Practice facilities
The driving range is up a hill from the pro shop and is deep and wide. The small bucket was only 25 balls or so. I never like when courses are skimpy on range balls. A small bucket should never be less than 40 balls. Not that I hit them all, but I prefer to warm up with some short pitches and finish with the same, but 25 balls is really not enough to do that.
The practice greens were nice and had sand to practice with, which definitely helped me get ready for what I was going to face on the course.
Pace of play
They target 4 hours and 30 minutes. We had to wait on every tee box, but it was not awful. Our round finished in 4 hours 24 minutes. I have gotten spoiled with 3.5 hour rounds, so it was tough, but I can handle anything under 4.5 hours.
Conclusion
Just an hour from Bellevue, 15 minutes from Tacoma, Trophy Lake is a great change of pace from the urban courses up north. It belongs at the top of your list if you have not played it yet, and it one I plan to return to whenever time allows. I put it a notch below Gold Mountain down the road because of the better pace of play, views, and hole variety at Gold Mountain. But that's my favorite course outside of Snoqualmie Ridge in the area, so even being compared is a good thing.